A full service digital marketing agency
Our team develops effective content strategies for forward thinking companies. We have a proven track record in increasing search engine rankings.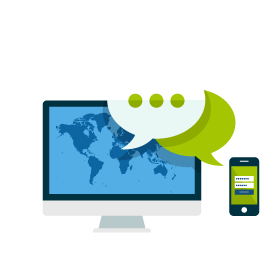 We pursue relationships based on transparency, persistence, mutual trust, and integrity with our employees, customers and other business partners.
Our objective is to help our clients create an online identity for their business. We offer professional digital marketing services that help businesses capitalize on various Social Media platforms, optimize their website to increase organic search results, design / launch successful email marketing campaigns, and assist in making sure that they remain ambitious for the highest rankings—even when it comes to highly competitive online traffic, blogging, industries, keywords, and business.
Socializon focuses in areas as diverse as social media marketing, email marketing, search engine optimization, and full-scale digital marketing campaigns. Our specialization consistently delivers outstanding results by combining creative ideas with vast digital marketing experience. We can help you build a sustainable, meaningful relationship with consumers by engaging them with your brand using social media, email marketing, and expertise in creative design.
O U R    V I S I O N
The most respected Internet marketing practices. We want to change the way businesses speak, listen, and share online.
Milestones
Some remarkable events our digital marketing agency went through.
April, 2013
Social Media Marketing company started by web enthusiast Brandon Fell in Philadelphia, PA.
August, 2015
Socializon, LLC signed its first 10 Social Media Marketing clients in Central Bucks!
November, 2015
Added standard / e-commerce website building and designing to available business services.
March, 2016
Our email marketing and WordPress blogging services used by iOS and Google app.
June, 2016
We added photography and videography to our services for existing and future clientele.
May, 2017
Began operating full-scale digital marketing campaigns for businesses.
July, 2017
Purchased a Virtual Private Server for clientele website hosting and construction.
October, 2017
Assisted a larger Veterinarian practice to drive further digital traffic and online awareness.
January, 2018
Launched a large scale Social Media Marketing campaign that yielded amazing results.
September, 2018
Finalized several website projects and sold them to another business for a solid profit margin.